February 23-25th, Death Valley National Park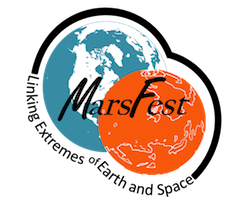 2018 Linking Extremes of Earth and Space! We are proud to again bring educators, scientists, the public, and National Park enthusiasts together to share this little known, but extremely important, use of our public land.
There are very few places in the world where the extremes of our planet can offer a look into what may be possible in our Solar System and beyond. This event features keynote speakers, scientist-guided field trips to analog sites, a star party, and an expo with hand-on activities. Download the latest 2018 MarsFest Schedule Here pdf.

The goal of the MarsFest is to offer the public the opportunity to learn more about our planet, Mars, the Solar System, and how that knowledge helps us plan for humans to explore beyond Earth. Death Valley National Park plays an important role in contributing to the scientific community.
MarsFest 2018 is brought to you by: The National Park Service and the Death Valley Natural History Association, SETI Institute, NASA Ames Research Center, NASA Goddard Space Flight Center, Jet Propulsion Laboratory (JPL) ans NASA Astrobiology Institute (NAI).
More information including photos of previous years please visit SETI Institute's Webpage from last year: https://www.seti.org/marsfest-2017

*Support for the festival also comes from scientists, education and outreach professionals, astronomy club members, and planetary science enthusiasts (e.g., The Planetary Society and The Mars Society), who volunteer to share time, information, resources, and their passion with visitors. We have worked together to elevate public awareness about planetary analog research here on Earth, and the associated missions in space such as the Mars Science Laboratory (MSL) and the upcoming Mars rovers. Previous MarsFest weekends of 2012, 2013, 2014, 2016 and 2017: were extraordinarily successful thanks to the dedication of Death Valley National Park personnel, the SETI Institute, and NASA Centers, with key support from the Sample Analysis at Mars (SAM) Education and Public Outreach Team.

MarsFest 2018 Organizing Committee:
David Blacker, Death Valley National History Association

Rosalba Bonaccorsi, SETI Institute Carl

Sagan Center/NASA Ames Research Center

Andrea Jones, Planetary Science Institute/ NASA Goddard Space Flight Center